How an intaglio etching is made and printed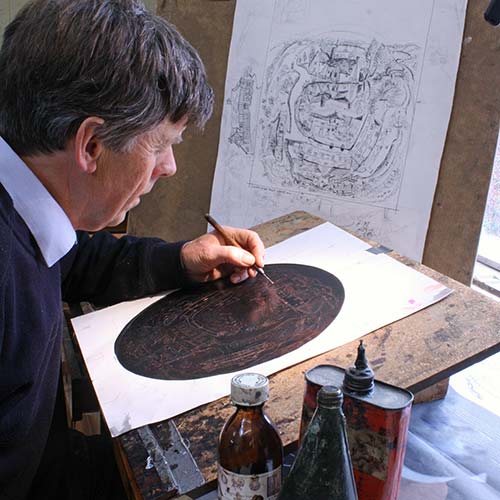 Etching is printmaking using the intaglio method, which also includes processes such as drypoint, aquatint and mezzotint. In intaglio printing, the ink lies within grooves and channels on a plate. It is absorbed by the paper when it is forced in using a roller.
This is in contrast with relief printing, for example in woodcut or linocut printing, where the ink lies on top of raised portions of the carved surface.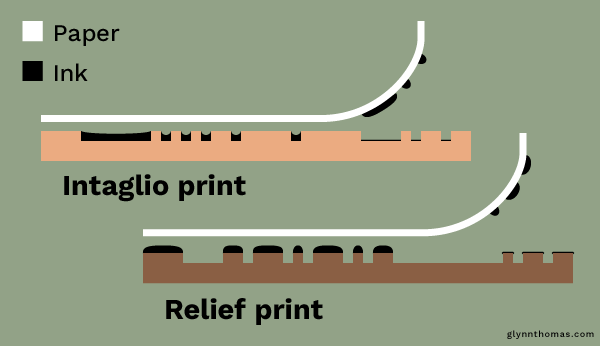 The metal etching plate — copper, zinc or steel — is coated with an acid resistant wax ground and the design is drawn through the wax with a fine needle.

The plate is then immersed in an acid bath. After several minutes the plate is removed.

Stopout varnish is painted on the fine lines so they are retained at that depth.

Then the plate is reimmersed to give a deeper etch.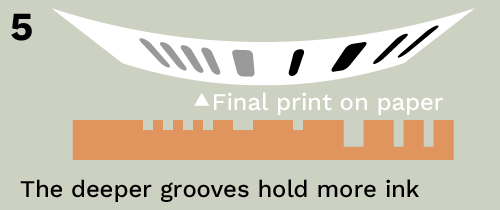 This process is repeated as many times as necessary to obtain a variety of depth, the longer the plate is etched the deeper and blacker the lines will print.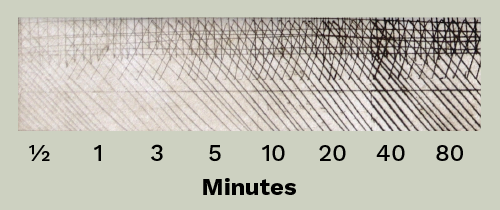 A test strip for a line etching, showing the ink strength after a range of times that the plate spent in the acid.

A process to obtain various tones. A fine resin powder is dusted onto the plate and fused by means of heat.
Each resin dot becomes an acid-resist. The same principle as line etching applies, i.e. the longer the plate is immersed in the acid the deeper and darker the tone becomes.
A complicated plate therefore can take several weeks to complete. Careful study of an etching will reveal white spots which are the marks made by the resin powder.
The above are two basic principles of etching but there are many more.